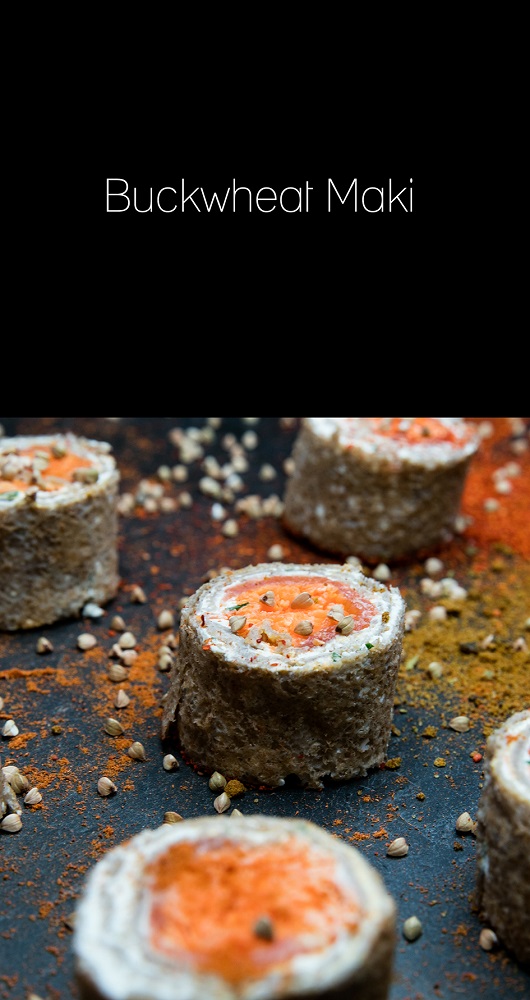 1 galette made with PGI Brittany-made buckwheat flour®
1 slice of organic smoked trout
1 tub of cream cheese
1 raw beetroot
1 tbsp of sesame oil
1 tbsp of olive oil
1 or 2 shallots dependin on their size
1 bunch of fresh chives
Sriracha sauce
Salt and pepper
Lemon

In a bowl, mix the cream cheese, finely chopped shallots, chopped chives, salt and pepper. Keep to the side.
Grate the raw beetroot into a bowl and mix in the sesame oil, lemon, olive oil and a few drops of Sriracha sauce. Leave to marinate for 15 min.
Spread the cream cheese onto your galette. Then place the slice of smoked trout onto the lower half and cover with the grated beetroot. Roll, while trying to keep it as tight as possible. Then, using some cling-film in wich you make two small holes, roll your galette nto a tight sausage. Once this has been done, leave to cool in the fridge for at least 2h.
2h later, remove the cling-film and cut 2.5 cm thick slices to form the maki.
Recipe created by Hubert Niveleau